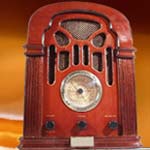 Adventures of The Saint, (Drama series) holds long-lasting and international appeal across many genres and formats, including books, pulp magazines, radio, comic books and strips, bubble gum cards, television drama series and on the silver screen. The radio series holds a unique place in radio history because it aired in various versions on several networks simultaneously in Ireland, the U.S. and U.K, and later on, a network in South Africa created its own radio drama about The Saint.
The Saint, Simon Templar, was the brainchild of British-American author, Leslie Charteris (1907-1993). Templar's allure as a complex, sometimes contradictory personality captured generations of readers, listeners and viewers. At once suave and earthy, charming yet somewhat aloof, Templar enjoyed high-toned tastes, and made clear that his biggest pet peeve was being interrupted wile dining at stylish restaurants. However, the interruptions were, most often, merely a device to introduce him to his next escapade. Templar was known to skirt or even break the law when he believed it was necessary in order to achieve justice for crime victims.
Actor Brian Ahearn described Templar as "a sort of Superman" who was "never at a loss in any situation" and could "get himself out of any scrape, and always quite legitimately." It might be said that The Saint's creator, Leslie Charteris, knew The Saint best, and described him this way: "He believes in romance. He isn't merely going through the mechanical movements of a man in an exciting situation. He is, vitally and positively squeezing the last drop of delight from living the best life he knows in the best way he can. And because of that he is finding intensified delight in the more ordinary things around him."

There are 50 shows in our collection!
Date Aired
A Gangster District Attorney
October 15, 1947
A Schitzophrenic Psychiatrist
September 18, 1949
Case of the Unhappy Homicide
November 6, 1949
Greed Causes Murder
August 14, 1949
Santa Claus Is No Saint
December 24, 1950
Reflection on Murder
August 13, 1950
The Corpse Said Ouch
August 6, 1950
Case Of the Previewed Crime
July 30, 1950
Follow the Leader
July 16, 1950
Problem of the Peculiar
July 9, 1950
Real Gone Guy
July 2, 1950
Sonata for Slayers
June 18, 1950
The Sinister Sneeze
June 11, 1950
The Cake That Killed
January 8, 1950
Cupid and the Corpse
August 27, 1950
Baseball Murder
September 3, 1950
The Chiseling Chimpanzee
December 10, 1950
Martin Hickerson Private
December 3, 1950
The Terrible Tintype
November 26, 1950
The Dame on the Doorstep
November 12, 1950
Miss Godby's School
November 5, 1950
It's Snow Use
October 29, 1950
Dossier on a Doggone Dog
September 24, 1950
The Ghost That Giggled
September 17, 1950
Horrible Hamburger
September 10, 1950
AND MANY MORE



Other Vintage Radio You'll Like:
Try these other Old Time Radio Shows out for size!